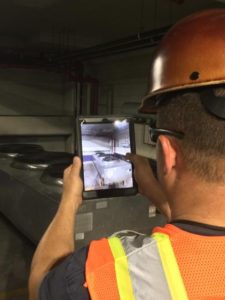 Huang's Inc. is embracing an online approach to project management to create value for our customers, while many of our competitors continue to rely on traditional paper filing methods.
Technology has transformed most industries, but construction is still one of the least digitized sectors. Recently, we integrated iPads in the field equipped with PDF Expert and Google Drive to expedite contract document submission and quickly and cleanly transfer documents and media in real-time to our customers.
Going digital saves our team time, and our customers see the benefits as well. "It is definitely appreciated by the clients," said Dominic Williams, Project Manager. "They like to see what's taking place on the job site. We are able to provide daily updates that are clean and easy to read. Modifications to contracts, photos, any changes to RFIs – they are able to see those immediately."
The digital era of construction will redefine the way the industry plans, designs, and builds. As we move away from our dependency on paper, our business operations have become a lot cleaner, more simple and direct.
Huang's Inc. is here to help
Huang's Inc. is an 8(a) certified general construction contractor providing general construction, facilities maintenance, and mechanical construction services to the federal government, industrial and commercial clients across the Washington metropolitan area. To find out how we can meet your needs contact Lucy@huangsinc.com.